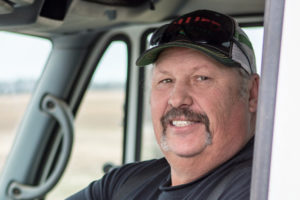 BANCROFT, Wis. — The plan was set. Arrive at the farm at 4:45 a.m., hit the road for Eagle River by 5 a.m.
Steve Hosen was already behind the wheel at 4:44 a.m., headlights shining out Wysocki Produce Farm's 3rd Ave. overpass driveway, with his goatee-encircled grin, spread wide across his face.
April nears, and potato planting season looms on the horizon. T1101 — Hosen's rumbling Mack semi-truck — has been busy hauling seed for weeks from Eagle River and Michigan to prepare central WPF and Wisconsin growers.
The majority of Hosen's adult life has been behind the wheel of one truck or another, but there are few other places he'd rather be right now than working on the farm.
"To have a job that you like doesn't come along every day," Hosen said. "I think I maybe had one bad day last year."
Hosen isn't confined to his big rig year-round.  As a farm tender, his role is always evolving and expanding since he joined the farm six years ago.
Before seed hauling began this spring, Hosen delivered B-sized potatoes to process plants during the winter. Once seed deliveries are complete in early April, Hosen will serve a litany of purposes during the growing season.
He'll switch to running a water truck, mixing applications for planters and loading seed. Hosen will roll over to managing product mixtures for crop spraying during the summer months.

One of Hosen's favorite jobs on the farm begins in the fall — running an 8335 John Deere as a push tractor during potato harvest.
Hosen's work ethic and attitude leave an impression around the 24,000-acre farm.
"He loves it," Wysocki Produce Farms operations manager Blake Schultz said. "You see, the first time in the tractor, he was like a kid in there.
"I'm always looking at the guys that are doing the stuff behind the scenes, so when that opportunity does come into play, then I'm like hey, 'You want to go hop in that thing for a little bit? They're like, 'Really!?'"
That enthusiasm spreads even on days when fieldwork is hard to come by and Hosen is forced to shift his mindset from moving big equipment to making himself useful around the shop.
Schultz, who claims Hosen smiles even when he's mad, appreciates the combination of personality and willingness to do whatever it takes to get the job done.
"You have to be open and diversified," Hosen said. "You have to want to help. The goal of raising potatoes, harvesting potatoes and then potatoes moving into the market. That requires a lot of different hats. The diversity, the variety of things that I do just thrills me."
Hosen calls his job at Wysocki Produce Farm "a sweetheart deal," but it's not just based on the work he does on the road or in the field.
It has almost everything to do with his responsibilities as a single father of his 15-year-old daughter Valerie.
"Spending time with my daughter is probably the most important thing to me," Hosen said.  "And working here going on six years, I've been home every night.
"I'm not stuck in Ohio, I'm not stuck in Minneapolis during a snowstorm. I'm home every night and to be able to enjoy family and sleep in your own bed and make a home-cooked meal every night. I mean, it's priceless."
Hosen said even outside of the typical schedule, accommodations are made for additional work-life balance, like attending Valerie's choir concert during planting season.
Hosen soaks it all in.
He admires the sunsets and sunrises he witnesses. Eagles, cranes and other wildlife catch his eye, adding to a career full of outdoor opportunities. He watches in wonder as storms roll in and out overhead.
Those are Hosen's rewards for the great deal of time and effort he exerts on the farm.
On top it, he still enjoys boating on his 18.5-foot Bayliner Capri and cruising back roads on his 2009 Harley Ultra.
He relishes the chance to help his teenage daughter build a model playground out of popsicle sticks for a school project or take her to movies, where they recently watched Disney's Onward.
He says there is a lot to love about where he works.
"I can choose a lot of different jobs, but I choose this one," Hosen said.
If you like the sound of Steve's day-to-day responsibilities and the opportunities they provide, please look at Wysocki Family of Company's available career opportunities.